Lily's Milestone 15th Birthday
A long time ago, I made this sweet thing promise she'd give me 15 years.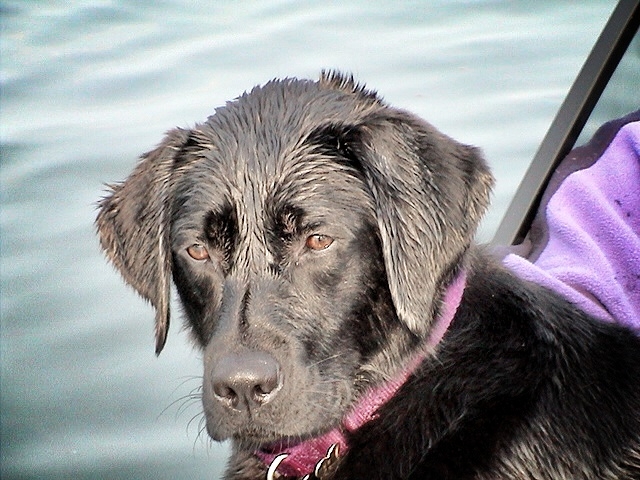 Earlier this week, she made good on that promise.
The sweetest girl turned 15 on Sunday/Monday. (The date is in question because I have it January 15 on one of my calendars, and January 16 on another calendar.) Not that it matters — she made it to 15 either way!
When we have a service dog pup in training, their first birthday is a big deal around here — we generally only get that one big day before they head back to the service dog organization a few months later. Our permanent dogs usually get a big-deal party on milestone birthdays — the big decade and definitely the big 1-5!
The birthdays in the middle are hit and miss. I will never forgive myself for letting Nemo's 11th birthday go uncelebrated in 2016. I was busy packing for my business trip to Kansas City and I thought we'd have him for several more birthdays. "I'll catch it next year," I remember thinking. I won't be making that mistake again, for sure.
We usually go low-key for the non-milestone birthdays. Maybe some crumbled bacon in the dinner bowl, a nice, long walk, or some extra lovin'.
But this was a big one.
It called for the good stuff! I got party plates, balloons, candles, and double cheeseburgers for everyone! If I thought Lily would've enjoyed wearing a birthday party hat, I'd have bought those, too. The only part of the entire celebration that mattered to Lily was, naturally, the double cheeseburger! I got one for Tango and Schooner, too, because I thought, if they knew what a big deal this was, they'd want to partake, as well, in this Celebration of Lily.
As much as I'd like to request that Lily give me one more year and make it to 16, I don't think that would be fair. She's had a really good 15 years, and all I want for her now that she's held up her end of the bargain is that she lives the best life I can give her.
Lily was the second service pup we raised.
She joined Rocky (the first service dog we raised) and they overlapped for several months. She was quite attached to Rocky, and I worried about Lily the day we took Rocky back for his next level of education.
Thankfully, Lily got to visit with Rocky every time she went back for her monthly check-ins. They would romp and play as if they'd never spent a day apart. And when Rocky graduated and got paired with his person, we were lucky enough to dog-watch Rocky a few times each year when his family traveled abroad. It was like homecoming when Rocky would visit. Lily and Rocky fell back into their old habits the instant he stepped back in the house.
She was quite the feisty girl when she was younger.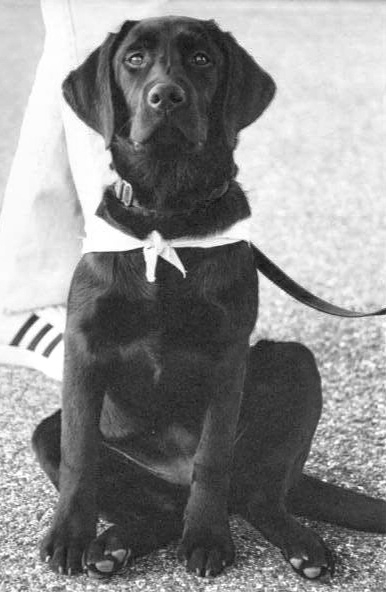 She was what we call "reactive on leash," which means she'd act like a crazy-dog when she was leashed and we encountered another dog. We had no trouble introducing her to a new dog if she was off-leash. And thank goodness, she was just really noisy, she wasn't aggressive toward other dogs. But that reactivity made outings a real pain in the neck. It was embarrassing to have this lovely little Labrador at the end of her leash up on her back legs, screaming her head off. "She's not really mean, I promise," I'd mutter as I crossed the street.
Lily was the dog who had to be crated whenever we left the house until she was about 12 years old.
She was the most mischievous little dog we've had! She delighted in getting into everything. Rip, shred, destroy! Sometimes she'd go a few months without destroying anything and I'd always think "Aha! We're getting somewhere!" But then I'd come back home and find that she'd shredded or destroyed the very things she'd left alone those last few months. Back in the crate. To be honest, I think she misses her crate — she loved being crated, it was her zen room. She seeks out tight spaces to this day, I think she's trying to recreate the solace that her crate gave her.
She is still fairly physically active for an old girl.
Her vision and hearing have declined, but she can still jump on the couch all by herself, loves to go for walks, enjoys being outside in the fresh air with the other dogs, and will still get a wild hair and jump around like she's 3 years old.
Her cognitive ability continues to slip, but not to the point that she's lost her zeal for life. There are bouts of wandering and circling, and sometimes it looks like she was on a mission to do something very important, but forgot what that was. Which is kinda how some of my days are now that I think about it.
I don't know how much time we have left with this lovely lady, but we're loving every day with her. Happy birthday, Sweet Lily!